Other Services
Books, Picture books
Picture books in English for babies/kids or parents/carers are available on the corner of the first floor of the Zushi City Library. Books in English for adults are also available at the second floor.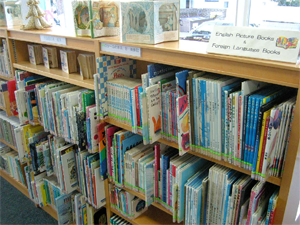 Newspapers and Magazines
Major newspapers, local newspapers, business newspapers, major weekly magazines and monthly magazines are available at the first floor.
Followings are the English newspapers and magazines:

| | |
| --- | --- |
| English newspapers | THE JAPAN TIMES / International New York Times |
| English magazines | TIME |
Photocopy Service
Fill out the application form at the reception counter to make photocopy.
There are two self-service copiers in the library. Black and white copier is located on the first floor, and color copier is on the second floor.
Making photocopy in the library is limited to books and materials owned by the library (Copyright Law, Article 31). You need to pay adequate amount of fee to make photocopy.
Photocopy fee
sizes A4, B5, B4
size A3
Black and white
10 yen
Color
50 yen
80 yen
Delivery Service (Paid)
Delivery of library materials is available for the residents of Zushi with library cards.
Delivery Services for the Disabled (Free)
Free delivery of library materials is available for people who have difficulty walking, carrying books with physical disability certificate. This service is limited to the residents of Zushi.
Registration is required in advance. Contact the library for details.